Productive.  Convenient.  Smooth.  Exciting.  That's how the remodeling process is when Heartwood Construction is your home remodeler.
When a well thought-out project comes together, it's not only functional, it's inspirational.
Below is our remodeling process for jobs that require a plan and will take more than three weeks to complete. For smaller jobs that don't require a plan, we skip the Design and Budget Contract and, after we listen to what you want, we'll provide you with a fixed-price Construction Contract.
No Two Projects Are alike
If you're remodeling to update your home or create and exciting new living environment – whether it's a single room or a bottom-up renovation – we'll make your dream a reality. If you're planning a historic restoration or an addition to an older home, we're experts at matching architectural details. Roof pitches, windows, doors, exterior siding, interior trim, stains and finishes – even little touches like built-ins and eave brackets – will remain true to your home's heritage. Not all remodelers can promise you that.
Initial Budget Planning
On our initial phone visit, we will talk about the scope of your remodeling project and your budget expectations. We will then set up an appointment with you to meet at your home. At this meeting, we will further define the scope of work, your budget and the project's feasibility, and offer you a Design and Budget contract. This contract will include the cost for designing your remodel and provide you with a realistic budget for that remodel.
Listening – Another Thing We Do Well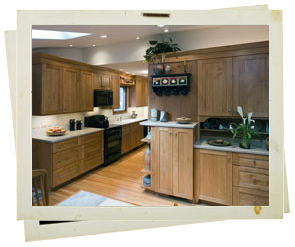 In the next phase of our remodeling process, our designer will meet with you to better understand your wants and your needs. This is the time to talk about all those things you envision in your remodel. Bring out all the pictures you have collected, design ideas, color preferences, wood species preferences – everything you've been thinking that you want included in your remodel. We will take notes and pictures, and listen to you. Tell us how you want to use your space, how you use it now, what works and what doesn't. What do you like about your home? What are your biggest frustrations? We will also address any zoning or survey requirements at this time. This phase may take more than one meeting, depending on the scope of your remodeling project and the details involved. Then once we get a thorough idea of what you want, we start the design process.
Nailing Down the Design
We will present to you two or three remodeling designs based on your preferences, accompanied by initial estimates for each design. Working with your input, we blend these into one design that is exactly what you have envisioned – and maybe some pleasant surprises that you didn't. We want to stress that this is your remodeling project – we will suggest different design ideas, but the final product is your decision. Once we have settled on a design and budget, we will move ahead to the final stage of the design process.
Obtaining Bids
In this stage we will assist you in making specific product selections and in finalizing any details to the remodeling design. At this point we will bring our subcontractors into the process to give us bids on the work they will be doing. Once all the subcontractors bids are in and all the product selections have been made, we will provide you with a detailed, fixed-price Construction Contract.
Your Day-by-Day Construction Schedule
After the construction contract is signed, you will be provided with a day-by-day construction schedule. We will obtain the building permit and ensure that your remodeling project meets any necessary zoning requirements. Our remodeling team will meet with you in a pre-construction conference to talk about job logistics, communication and other important details. You will meet your project manager and lead carpenter, and we will begin the exciting construction process.
The Construction Phase
During construction, our experienced remodeling team will pay particular attention to protecting your home. We will apply floor protection, protection to any parts of your home that are not being remodeled but may be in the remodeling area, and dust protection so that all the dust created by the construction process stays out of your living area. In addition to scheduling weekly meetings with the project manager so you know how the job is going, we will provide a job board which provides informal communication between you and the project manager. The project manager, the owner and the designer will always be accessible to you by phone or email.
Changes Along the Way
Often during the demolition phase of the construction process, there are discoveries (framing issues or rot, to name two) that could not have been seen during the estimating process. When these discoveries are made, we inform you and give you a cost for correcting the problem before we do anything. Also, if there are any changes to the plan you want to make along the way, we will provide a cost for the change and, if you want to include it, roll it into the production schedule.
The Peace of Mind of Our One-Year Guarantee
After your remodeling project is complete, we provide you with a one-year written guarantee, and we keep in touch with you throughout that year – reminding you of the anniversary and when the year is approaching.
Your Satisfaction – The Most Important Part of the Process
We rely heavily on word of mouth advertising. In fact, the majority of our remodeling work comes through referrals from satisfied customers. Once they hire Heartwood Construction for one remodeling project, they call us for the next. Providing our customers with quality work and ongoing, personal service is the key component in our success. We're confident that if you become a Heartwood customer, you'll remain a Heartwood customer.